I decided to browse around for some Fashion Week coverage and pick out some of my favorite looks to share with you. Of course, the credit for the pictures goes to NY Magazine.
Source for all pictures: nymag.com
Cushnie et Ochs
I avoid yellow like the plague but I love the boldness of the all yellow ensemble mixed with just impecable tailoring. The rest of the collectioni s a bit iffy but this look is gorgeous.
Note to self:
I need a tuxedo jacket.
Tadashi Shoji
Clean, simple, fresh. It reminds me a little of a commercial for stain-fighting clothing detergent since they always do a smear of grass stains or a red wine spill. I almost wish it was more like my version in the corner so it would be more balanced and wouldn't draw so much attention to an area that isn't usually a woman's best asset.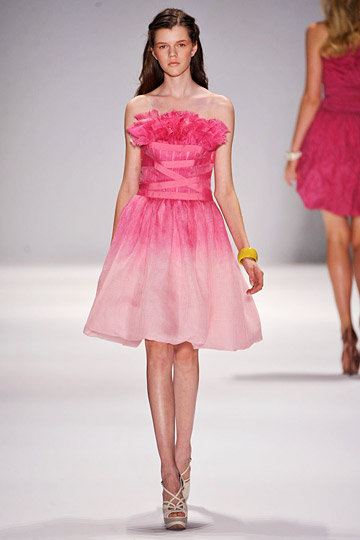 Tadashi Shoji
I really dislike the color pink. But this is so endearingly girly and sweet and unassuming I can't help but be drawn in. Also, the makeup really complements this look. If you have fair skin like this, play up your coloring with light pink blush this fall.
Tadashi Shoji
I have a weakness for black, white, and yellow floral prints with a feminine cut. I don't know why. I just do. Simple makeup, neutral, gray, or blue eyes...perfection.
I got some sunshine from Cushnie et Ochs and with these 3 looks I feel like the collection took me on a trip through the garden from grass to flowers to bumblebees. I guess that's appropriate for a spring collection which doesn't feel too outlandish with the warm weather we had today.