Image Source:
nymag.com
Cynthia Rowley
I don't like the pants in this outfit. I'm not sure if it's how she's about to take a step but they seem to shorten her legs regardless and I'm not sold on the fact that the pants and jacket go together. But I LOVE the jacket. It's a great subtle blend of masculine and feminine with the cut and the piping and the silky fabric and print.
Cynthia Rowley
I think I like this look because it's so doable. Take a simple lightweight dress in a feminine, nonoverwhelming, but still interesting print, and pair with hard looking gold shoes and a bag for a bit of glam and edge. Also, I just like the way the print looks. In the picture, it reminds me of a sun print/cyanotype with some stamping work.
Cynthia Rowley
Again, I think I like this look because it's doable. But in a different sense. Here, I envision a DIY project with a basic black dress and some gold lace or appliques (possibly painted gold first). As to the dress itself, it is nice and I admire the restraint but I don't think it had a sufficient amount of movement coming down the runway.
Cynthia Rowley
A cute dress I would never wear (It needs to be longer and the silhouette is very simple.) but I LOVE the print. It feels oceanic...straight out of a coral reef or, if you think like me, the opening credits of The Little Mermaid (Disney). It also reminds me of the effect you get when you have been using one of those sheets of wax paper as a paint palette and then you press it together at different angles to blend the colors and see if you get an interesting pattern. So if you know how to die fabric, it's a slightly trickier DIY look. :)
Jason Wu
Quiet. In a good way. A pop of orange lipstick. A sheer feminine fabric on top with the polka dots almost blending together to create a flowy print. The color, the accented stripe down the middle, the muted print. The only thing I don't like are the earrings, hair, and shoes.
Jason Wu
It's like he took the last look and revamped it. Love. I love the cut. I love the placement of the dots. I love the balance of the accessories this time. I don't love the shoes on their own but this time they work with the outfit. The only thing I don't love is the hair.
Jason Wu
LOVE. I don't wear yellow so I hope this is not a dress because I love that skirt. Beautiful movement, fun, and freshness. Perfect for spring. If I find that print at a fabric store, I'm snatching it up immediately.
Nicole Miller
Sometimes you have to be brave enough to take a few risks. I think most of the collection was crazypants and 80s ridiculous but I actually really like this look. It is colorful, fun, and definitely makes a statement but there's also something classic and refined about the cut and the fabrics that anchors it.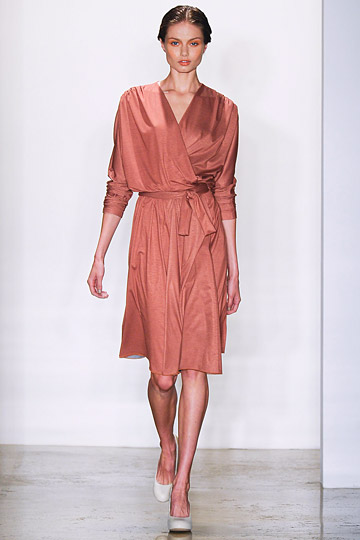 Costello Tagliapietro
The dress seems like a somewhat sleepy update of a 40s silhouette. It gives the effect of a dancer's effortless elegance, though a lot of that might be due to the model. I think with different makeup, a different background, and maybe a different skintone, this dress could really draw the eye in an understated glamour kind of way. This is a dress that doesn't wear you and sometimes that's necessary.
Costello Tagliapietro
A very simple dress. Very beige-y and camel and with the background, skintone, and makeup, kind of drab but those shoes. I want those gold shoes. For some reason the combination of colors just makes them pop in a great way. I think you might be able to try this look for fall. Grab your camel/beige wool coat, trench coat, or flowy skirt and pair with metallic gold pumps or flats.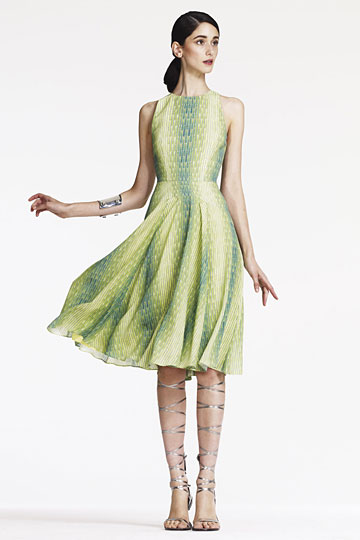 Lyn Devon
There is just something so charming about this look. It doesn't wow me and I'm not sure I want to wear it but I love this picture. I think I'm going to hang it on my wall like a poster. I love the hair and makeup and the winding laces on the shoes. This is a doable look that's just out there enough to still feel fashionable and get noticed.
Lyn Devon
Again, loving the look but not the outfit. It's not bad, just very simple. Art director? Model? Kudos to you. I am loving the photographs for this collection.
Lyn Devon
Again, I want to put this on my wall. I'm not loving the exposed midriff. It might work if she threw on a sari. I do like the print for this look and I think it would work as a one piece dress or with a strip of fabric covering the exposed area.
Lyn Devon
Wall.
Lyn Devon
Wall. But I actually like this look. It's one of the things I think of when I picture a dancer silhouette and yet I think it works for most body types.
Lyn Devon
Lyn Devon
I actually love this. It's very clean and minimal and wearable. This is the unapproachable woman in early 20s-40s fiction that ineffective male protagonists dream about and young girls long to emulate.
Lyn Devon
Pretty and very chic but the fabric makes it acceptable for day-to-day wear.
Lyn Devon
How adorable is this picture?
Lyn Devon
Wall.
Lyn Devon