Hi chickadees!
Sometimes I haunt nymag.com just scrolling through the runway slideslows. What can I say? Odd things calm me down. I could not be more in love with these looks from the Elie Saab Couture show. They are feminine and romantic, with great potential for inspiring makeup looks and nail art. I would suggest checking out the entire collection for yourself on nymag.com.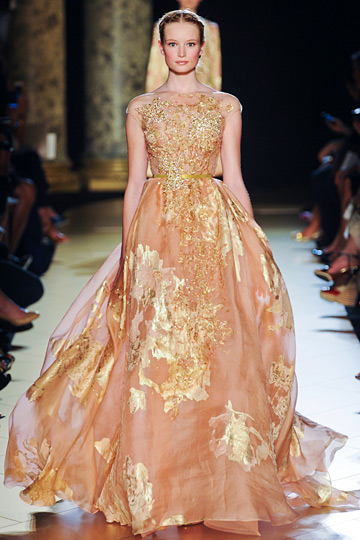 I love this combination of peach and gold. The model looks so light and ethereal but all of those warm tones bring life to the look.
For makeup, I'd probably use a peachy cream shadow or a cream blush on the lids. My recommendation is Urban Decay Afterglow in Blush. If you wanted to do eyeliner you'd have to keep it light so I might go with gold, silver, or a very light brown but you could really just finish the eyes with a bit of mascara. Any peach or light pink blush would do for the cheeks. If you wanted to go a bit bolder, you could try Stila Custom Color Blush in Self-Adjusting Coral. I wouldn't bother with anything on the lips but a balm.
For nails, I'd try L'Oreal nail polish in Versailles Romance with randomly stamped patches of a light gold polish and maybe some gold foiling. You can purchase gold foil for nails on Ebay or try a gold foil top coat.
http://nymag.com/fashion/fashionshows/2012/fall/main/europe/couturerunway/eliesaab/#slide14&ss1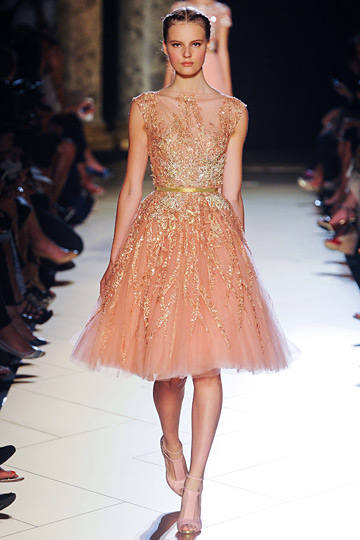 This feels like a very modern interpretation of the Versailles inspired looks that pop up from time to time.
You could take the blue and gold up to the eyes but to actually pair a look with the dress I'd think more of warm browns and nude colors. Use old favorites like the Wet n Wild Coloricon Palette in Vanity (discontinued) or Wet n' Wild single eyeshadow in Nutty.
This dress screams splatter nails to me. Take any light blue in your collection. For me, it'd probably be Essie's Sweet Talker. If you wanted to pick up the color from the shoes, I'd suggest Revlon Dreamer or Essie Lapis of Luxury. There are lots of splatter nail tutorials online. Just grab a brush and a nice bottle of gold nail polish and splatter away.
This feels like the perfect time to pull out your favorite light shimmery shadow. The actual makeup look is a little bland for me. I'd use L'Oreal's HiP eyeshadow duo in Electrified or Stila Kitten on the eyes with some boldly drawn, precision black eyeliner. Then maybe some Tarte Amazonian Clay Blush in Dollface on the cheeks and a bold berry lip.
To actually pair with the dress, I'd keep nails simple with a nice gray, mushroom, or purple creme polish. Try L'Oreal nail polish in Greycian Goddess or Essie Carry On.
If you would like me to try out any of these looks, let me know in the comments.